Exclusive Skin Care Correctives @ Incandescent Skin in Tucson
Introducing an award-winning line, DMK Skin Care Correctives by Danné Montague-King®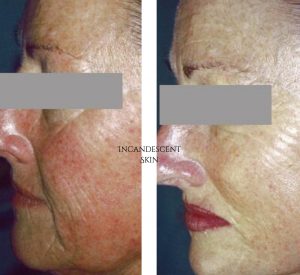 It is with great pleasure that I introduce Danné Montague-King® (DMK) to my clientele. I'm so excited to be adding this skincare line to my business.
The DMK concept is "REMOVE, REBUILD, PROTECT, MAINTAIN." Treatments address skin conditions from the inside out whereas many other lines address the concerns with the first few layers of skin. Think of it not as a cosmetic facial but as skin revision.
This new line is complex and addresses everything from acne, hyperpigmentation, age management, and sunspots. With consistent treatments and a home care regimen, we can improve these conditions and preserve the skin.
When we look at the changes in our skin from aging, sunspots or acne, the cause most often is internal. DMK penetrates to the compromised cell and fibroblast and corrects the problems. To maintain the effects, it is crucial that you come in for your scheduled treatments as well as continue with my prescribed therapies. If you want to look the way you do now in ten years, then consider starting the treatments.
We now accept Care Credit along with all major credit cards as well as cash.
Watch a video about DMK's award winning skin care line
DMK Skin Revision
This is a customized treatment comprised of a series of treatments. Whether we are doing a minimal remodeling procedure or maximum, the pre and post preparation are the same. We prep the skin with four enzyme treatments to revise and strengthen the skin. You receive a full range of products to prep the skin, maintain and heal the skin through your RP treatment. Three follow up enzymatic treatments are followed after the treatment to assure your skin is rejuvenated and well taken care of until you come back for maintenance.
Ask Alissa about the 9 treatment series pricing.
DMK Signature Treatment

This custom treatment begins by detoxifying your skin, removing dead skin cells, working on your skin functions, treating your skin concerns and rebuilding you skin barrier. All DMK enzyme treatments improves the skin's ability to function, increase cellular regeneration and stimulation of collagen production. These treatments are suitable for a wide range of conditions such as Aging skin, Acne, Rosacea, Sun damaged and Pigmentation.

90 minutes. Does Not include home care
DMK Muscle Banding Enzyme


This treatment is designed to lift and tighten sagging facial muscles by sending deep contracting signals to on the face and neck. This remarkable DMK treatment helps to restore optimal skin function which is the key to healthy, firmer skin. The more treatments the better results. This is suitable for everyone who wants to maintain youthful and healthy skin.


90-115 minutes.


(Must have at least two DMK signature treatments before this treatment)
DMK Instant Lift Treatment

This treatment firms, brightens and tightens the skin instantly. An instant "pick me up" for the skin. The result is visible after just one treatment. This treatment is typically performed a day or two before a special event. A perfect treatment for the "Mother of the Bride". A great occasion treatment for anyone seeking that instant "wow" factor.
A-Lift Treatment Series


This is a 12 week skin fitness program designed to revise the signs of aging and health of your skin. By removing redundant skin cells and tightening facial muscles, the DMK A-LIFT treatment works by stimulating the underlying structures of the skin. It gives the face its own workout, similar to how you would tone and tighten the body with exercise. The DMK Muscle Banding technique is used in this program. It will tighten and tone the skin, restoring a healthy youthful appearance. It works to reduce redness and unsightly capillaries in the skin and provides a vibrant appearance. The A-Lift uses transdermally delivered formulations that work with the skin's functions to remind it to function as it did when it was young. Must be on the DMK Skincare regimen as it supports the efficacy of the treatment.
DMK Consultation


Do you want to target a specific skin condition? Alissa will customize your monthly facials or create a weekly program for 8–12 weeks to address specific concerns.
30-minute consultation: (will be credited toward first DMK treatment appointment)
DMK Packages


Skin revision happens through commitment and dedication.

Purchase a series of treatments to correct a skin condition.

Ask Alissa about Customized Packages

Remodeling Procedure (RB)-this is a commitment of four enzymes, home care prescriptive, RP, and two more treatments to help with the skin renewal process along with a full range of home prescriptives.

6 Layer Peel is like a power wash to the skin. Guest must be on full home care prescriptive and a package of treatments to prepare and strengthen and maintain the skin.

Revising the pH of the skin through Alkaline treatments. Guest must invest in a package with home care prescriptives to prepare, strengthen and maintain the skin as we revise it.
Ask Alissa about Customized Packages