Specializing in Clinical Facial Rejuvenation and Non-Surgical Face Lift Technologies
At Incandescent Skin, we use DMK Skincare and Paramedical Skin Rejuvenation techniques. For instance, we specialize in noninvasive Paramedical Skincare Rejuvenation procedures for revising skin and getting the results you want. We have an award-winning clinical line that uses Paramedical Skincare Rejuvenation technologies to get impressive results. Why do cosmetic surgery when you can get the results you want through Incandescent Skin's DMK Skincare?
When we look at the changes in our skin with these skin conditions, the cause most often is internal. DMK Skincare and Paramedical Skincare Rejuvenation penetrates to the compromised cell and fibroblast corrects the problems. Likewise, to maintain the effects, it is crucial that you come in for your scheduled treatments as well as continue with my prescribed skincare therapies.
Read more about how DMK Skincare can help your Skin in our Blog
 The One True Oxygen Facial and Why it is Worth every Penny
 Watch a video about DMK's award winning skin care line
 Check out Tucson's Leading Skincare Blog 
 Read about the Nature of Enzymes Blog
 How to make your skin healthy, bouncy and dewy with DMK Skin Revision
  
DMK Skincare and Paramedical Skin Rejuvenation profoundly improves skin and enriches lives.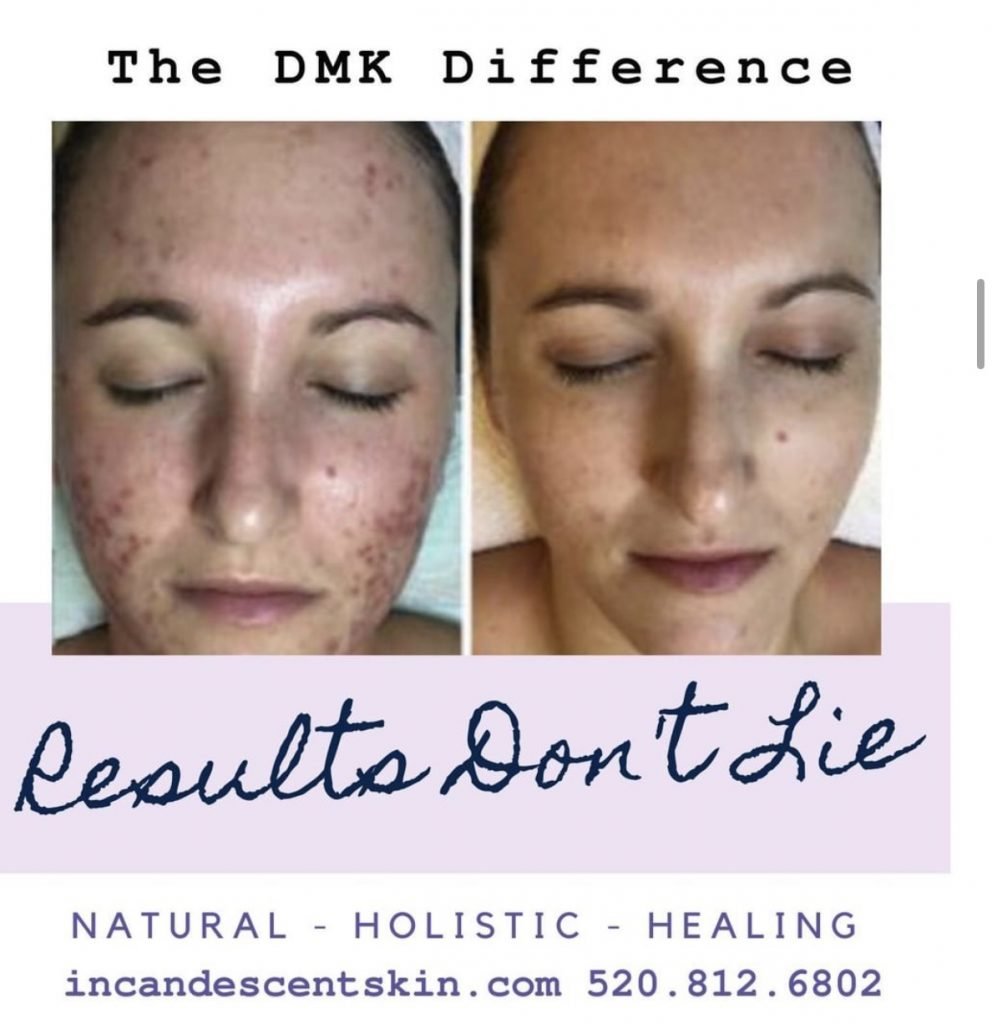 DMK Skin Revision
This is a customized treatment comprised of a series of treatments using Paramedical Skincare. Whether we are doing a minimal Remodeling Procedure or maximum, the pre and post preparation is the same. First, we prep the skin with four enzyme treatments to revise and strengthen the skin. Then you receive a full range of products to prep the skin and maintain and heal the skin through your RP treatment. Finally, three more enzymatic treatments are scheduled to assure your skin is rejuvenated and well taken care of until you come back for maintenance treatments.
Ask Alissa about the 9 treatment series pricing.
DMK Signature Treatment-Enzyme 1 (Your FIRST treatment to schedule).

This custom treatment begins by detoxifying your skin, removing dead skin cells, working on your skin functions, treating your skin concerns and rebuilding your skin barrier using DMK Skincare. Furthermore, all DMK enzyme treatments improve the skin's ability to function and increase cellular regeneration and stimulation of collagen production. Finally, these treatments are suitable for a wide range of conditions such as Aging skin, Acne, Rosacea, Sun damage and Pigmentation.

90 minutes. Does not include home care.
DMK Muscle Banding Enzyme -Enzyme 2


This DMK Skincare treatment is designed to lift and tighten sagging facial muscles by sending deep contracting signals to the face and neck. Meanwhile, this remarkable DMK treatment helps to restore optimal skin function which is the key to healthy, firmer skin. More treatments give rise to better results. Lastly, this is suitable for everyone who wants to maintain youthful and healthy skin.


90-115 minutes.


(Must have at least two DMK signature treatments before this treatment)
DMK Instant Lift Treatment-Enzyme 3

This treatment firms, brightens and tightens the skin instantly. In short, it is an instant DMK skincare "pick me up". Above all, the result is visible after just one treatment. This treatment is typically performed a day or two before a special event. A perfect treatment for the "Mother of the Bride". Lastly, this is a great occasion treatment for anyone seeking that instant "wow" factor.
This firming body mask uses enzymes that match that of our body chemistry and flushes out toxins. Furthermore, this treatment improves the skin's immune system and helps acne and saggy skin. Benefits include the rear-end and back of the upper thighs. Next, it includes deep cleansing and a light peel followed by the famous, clinical brand, DMK enzyme mask. Lastly, the skin will be drenched in nutritious serums to heal and hydrate the skin. Note: this is NOT a butt lift or anti-cellulite treatment. Over time it helps with cellulite due to consistent flushing.
A-Lift Treatment Series


This is a 12 week skin fitness program designed to revise the signs of aging and health of your skin with Paramedical Skincare. By removing redundant skin cells and tightening facial muscles, the DMK A-LIFT treatment works by stimulating the underlying structures of the skin. First, It gives the face its own workout, similar to how you would tone and tighten the body with exercise. The DMK Muscle Banding technique is used in this program. Finally, it will tighten and tone the skin, restoring a healthy youthful appearance.

It works to reduce redness and unsightly capillaries in the skin and provides a vibrant appearance. The A-Lift uses transdermally delivered formulations that work with the skin's functions to remind it to function as it did when it was young. You must be on the DMK Skincare regimen as it supports the efficacy of the treatment. Finally, this will also allow for the Paramedical Skincare option as we move through this series.
DMK ONLINE Consultation


Do you want to target a specific skin condition? Alissa will customize your monthly facials or create a weekly program for 8–12 weeks to address specific concerns.
Finally, consider scheduling a 30-minute consultation: (will be credited toward first DMK skincare treatment appointment).
DMK Packages


Skin revision happens through commitment and dedication. Purchase a series of treatments to correct a skin condition.

Ask Alissa about Customized Packages

Remodeling Procedure (RP) This is a commitment of four enzymes, a full range of home care prescriptives, RP, and two more treatments to help with the skin renewal process.

6 Layer Peel is like a power wash to the skin. Moreover, guests must be on full home care prescriptives and a package of treatments to prepare, strengthen, and maintain the skin.

Ask about additional Advanced Paramedical Skin Technologies.
Medi-Pedi

Enjoy a 20-minute Intense callous treatment that leaves your feet baby smooth. Callous removal, foot rub, and invigorating gel application. (no polish or nail care).
Instant and lasting results
Microneedling
This is a collagen-induction therapy which is a fancy way of saying it helps your skin make the proteins that keep it looking vibrant and fresh.
It starts with a numbing cream to ease any discomfort. I then use a microneedling pen to trigger your body's natural healing response in layers of skin it otherwise won't reach well into. This creates a path for the final step, a hyaluronic acid treatment, to enter your deeper dermal layers and hydrate your skin. The result is instant and lasting hydration and your skin rejuvenates from the inside out. This facial treatment will reduce the signs of aging.
You must have had a facial from me before to qualify for this treatment.
-55 Minutes-
Microneedling Series
-Take a step back in time-
One of the most profound things with microneedling is that results build in longevity when you repeat treatments. In a 2008 study people who received four treatments a month apart had a remarkable increase in collagen and elastin, the proteins that support the skin, six months after completing the treatments.
I have brought these results in a microneedling series. Three treatments used over 12 months to bring a level of deep healing you have to see and feel to believe.
To read more about microneedling check out my blog post about it.
Ask Alissa about DMK Paramedical Skincare Customized Packages
DMK Skincare
and Paramedical Skin Rejuvenation
changes skin and changes lives.
Follow Me!