There are a variety of treatments and each person's customized treatment is different because your skin concerns are not the same as others. The best option is, to begin with, a consultation and mini treatment to get started. You can book that directly online. Together, we will decide on a treatment plan and move forward accordingly.
This treatment program is different than any other and through time and commitment, you will see your skin shift to the outcome we discuss.
First-time Clients:  $185
This includes a consultation, treatment plan, home prescriptive recommendations, and a mini treatment to start. Additional Consultation Choices Available on Vagaro.com/is.
Customized Enzyme Treatment: $220
There are a variety of enzymes to choose from.  Your Paramedical Skincare Therapist will hand-select the enzymes and exfoliants that are best for your skin at each visit. 
Treatment addresses:  Chronic Acne, Aging, Hyperpigmentation, Rosacea, and Skin Disorders.
DMK Alkaline wash is an innovative advanced alternative form of exfoliation. Instead of using an acid (lower end of the pH scale) to exfoliate, we use a DMK Alkaline wash (the opposite end of the pH scale) as a method of pain-free exfoliation, hair removal, acne treatment, pigmentation, and scar revision.
6 Layer Peel: Pricing Varies
$400+
Pro Alpha 6 Layer Peel can only be performed after the predetermined enzyme treatments have been performed and the client is on full home prescriptives to ensure the best outcome for the client.
The Pro Alpha 6 Layer Peel is an intensive skin resurfacing procedure that offers deep skin revision for the following conditions:
Loose sagging skin, thickened leathery skin, hyperpigmentation, sun-damaged premature aging, blackheads, rosacea, wrinkles, fine lines
and scarring.
Medical Grade Microneedling using AnteAGE MD – $250
AnteAGE MD Microneedling Solution contains pro-healing, anti-inflammatory growth factors and cytokines derived from laboratory culture of human bone marrow mesenchymal stem cells, the specialized cells that science has determined function as "command and control" of healing in all injured tissues.
Microneedling with DMK Enzyme synergistic skin rejuvenation $396
Receive a microneedling treatment using Hyaluronic acid followed by a DMK enzyme with breathtaking results.
For a luminous complexion
The effects of aging, stress, and the environment influence skin to develop an uneven texture. It becomes coarser, pigmented and imperfections appear. The DMK Bihaku Skin Brightening Treatment is a professional program designed to help regain a brighter, more even, and luminous complexion.Must commit to receiving a professional treatment once per week for 12 week along with home prescriptives.
This treatment is best for Clients Suffering from Hyperpigmentationand wanting to refine signs of aging.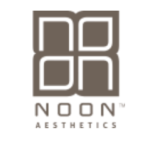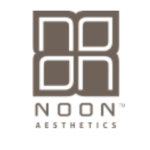 Introducing Noon Aesthetics
Medical Grade Skincare. Noon Aesthetics: High concentrations, no irritations.
We believe that everyone deserves beautiful healthy skin. Each of Noon Aesthetics advanced treatments is tailored to specifically address your skin's needs based on the unique skin type classification assessed and defined by a Noon Aesthetics Certified Professional.
Treats Age management, Acne Management, Pigmentation Management and Compromised Skin Management
Treatments begin at $150
Package of 6: $810
This perfect peel gives amazing results. This Peel addresses the following skin conditions/concerns: 
Photoaging, acne, pigmentation, aging skin, sagging skin, wrinkles, lip wrinkles, and eyelid wrinkles.
For best results, start home prescriptives 2 weeks PRIOR to peel.  Schedule a consultation to begin.
Microneedling $250+
Microneedling (otherwise known as Collagen Induction Therapy) creates micro-injuries to the skin to stimulate collagen to plump the skin for rejuvenating results. Aids in scar revision and hyperpigmentation. Softens expression lines, improves skin texture, sun spots, and smokers lines to name a few. A consultation is recommended. 
Please let your Paramedical Skincare Therapist if you have any of the below during your consultation. Some treatments may have alternatives if you have any of the below symptoms. 
Contraindications to Peels include (but not limited to) herpes simplex, cold sores, fever blisters or a history thereof unless taking an antiviral medication.
Severe cold or flu symptoms
Allergy to Resorcinol or Salicylic Acid (Aspirin)
Open wounds or lesions
Pregnant or nursing women
Accutane for the past 6-12 months
Sunburn, allergy, use of tanning bed
Cancer or patients using chemotherapy drugs, patients undergoing radiation, and patients with autoimmune disease.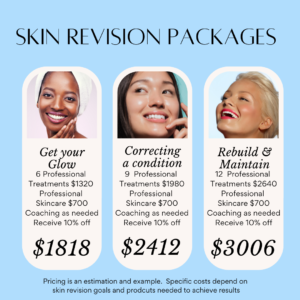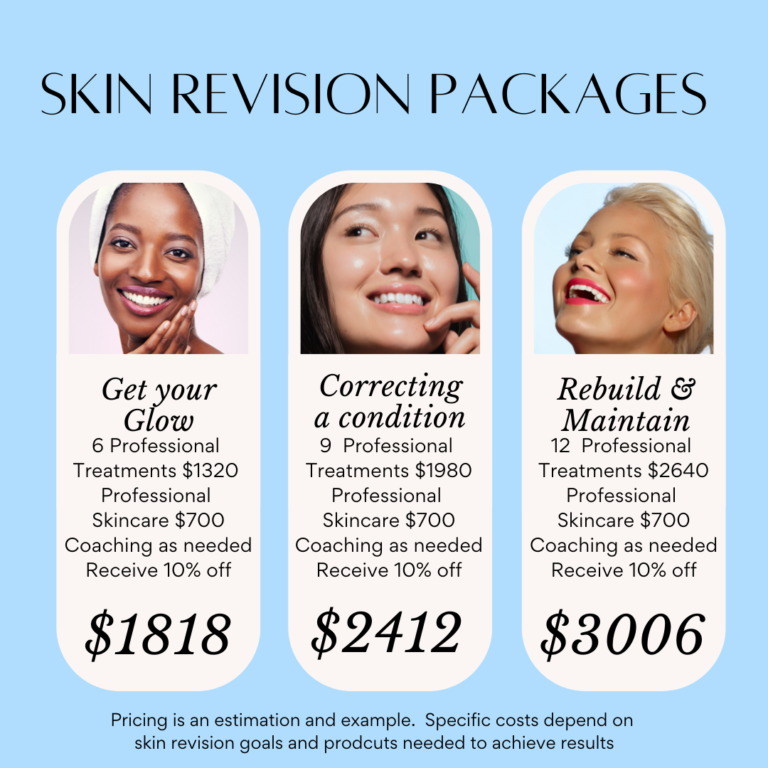 DMK Body Treatments: Starting at $185
Experience our world renowned enzyme Sculpting treatment. Body Sculpting has a firming, tightening and toning effect encourages the circulatory and lymphatic drainage systems to reduce fluid retention and engorged fat cells. Book a treatment once per week until desired results achieved.
Face Reality Professional Treatments and Professional Skincare $150
Purchase a package of 6: $765
Purchase a package of 9: $1080
Face Reality Skincare was created with one goal: to give people clear skin and confidence. With over 50 million people suffering from the physical and emotional toll of acne, we made it our mission to administer an effective way to achieve clear skin through premium formulas that use only tested safe ingredients. We are dedicated to giving not just real results but celebrating people and their skin at every part of their journey. Must be compliant with full homecare regimen.