What is Sugaring?
Sugaring hair removal also known as Sugarwax, has been used for centuries. With a skilled hand, a sugar paste is applied to the skin and molded right before flicking and removing unwanted hair. Sugar is 100% all natural, organic form of hair removal.
What are the terms that are used for Sugaring?
Sugaring is a form of hair removal that oftentimes is referred to as sugar wax, sugaring, sugar, or wax. People are confused by the term and often combine sugar + wax. While sugar and wax do the same thing both are very different.
How does Sugaring work?
The type of sugaring I use is a room temperature paste that warms with body temperature. A warm, thick mixture is applied first in the opposite direction of hair growth and then in the direction of hair growth using the hands. It's then flicked off in the direction of hair growth. The hair is extracted from the hair follicle.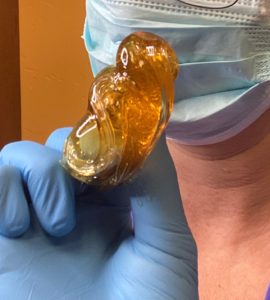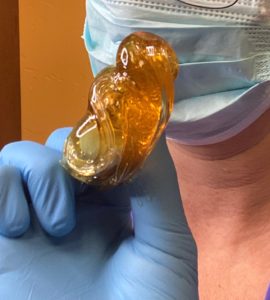 Is there anything I should do to prepare for my Sugaring session?
Yes! For the best results, please exfoliate the area 2-3 times per week. We sell soap and a mitt which provides better exfoliation then store-bought luffas. Additionally, please moisturize the treatment area between treatments. This will help the hair grow back in such a way that the sugar can easily grasp and remove the hair for a better experience.
Sugaring paste can be applied over missed hairs
The sugaring paste is very gentle and can be placed right over an area that was recently sugared but missed some hairs, without fear of much irritation. Surprisingly, temporary results can turn into permanent results over time with consistent sugaring (every 3 weeks).
Sugaring hair length should be 1/16th of an inch or the length of a grain of rice when Sugaring
When looking at the "ouch factor " yes, it's still pulling out hair from the root, but most people find it less painful. Sugaring doesn't stick to live skin cells like waxing, which means less irritation. The upper lip, chest, bikini, and genital areas rank as the highest pain offenders. Alissa's advanced techniques make for the least painful experience.
Why choose Sugaring hair removal?
Someone experienced can do sugaring quickly with the paste. Large amounts of hair can be removed at once with a fast finish. It is an easy cleanup without a waxy residue. Finally, the paste is water-soluble, meaning you can clean off any residue left on the skin with plain water, unlike regular wax.
Should I moisturize the day of my Sugaring Treatment?
No. Please cleanse and gently exfoliate the treatment area on the day of your appointment. Do no use lotion or oils on the skin as the sugar can not adhere to the hair follicle for proper hair removal.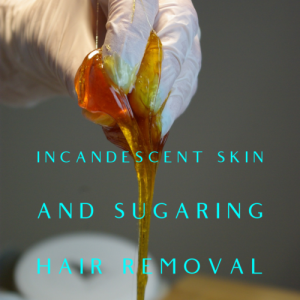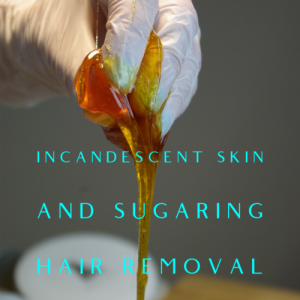 About Brazilian Sugaring
Brazilians are the most popular treatment on my menu. Here's the low down. A skilled hand and professionalism go a long way. Some ask, "why is the first treatment more expensive than maintenance treatment?" The first time we work together, you will receive a LOT of education. I set aside extra time with you to do our intake, and then move through this treatment. Some people need extra time. Generally, the first time takes longer and requires a very strategic hand and technique on my part. I don't believe in rushing you if you aren't ready. Then, if you choose to continue, I require you to come in every three weeks for a reduced rate. This is for the full brazilian only. Honestly, we want your hair length to be 1/16th of an inch. This makes it easier and more tolerable for you and generally, I am able to go a little quicker. It's a win-win.
Companion Treatments
Vajacial/Pelvic Facial for Ingrown Hair Treatments
This half-hour treatment takes a deep dive into exfoliating and treating the ingrown hairs from the inside out. This is a popular treatment that can also address skin tone and pigmentation issues. Book under sugaring services on Vagaro.