Deep Freeze Penetrates achy joints and muscles
Do you have sore or achy muscles and joints? Chronic pain issues? There is a whole slew of products out there to help soothe the pain, but I've never seen any penetrate as deeply and give such instant relief as this amazing product.
Deep Freeze is a phenomenal product that penetrates the dermis to address achy pains and joints. This product goes even deeper then other brands and one bottle lasts a long time. I retail this product at Incandescent Skin $40.
This form of therapy offers 2-4 hours of relief. Like icing, Deep Freeze helps to decrease tenderness and inflammation. While Deep Freeze was created to treat muscle pain, it can also be used to reduce the appearance of cellulite by increasing skin elasticity and firming the connective tissue.
DMK is relatively new to Tucson. I decided to highlight certain products and treatments. The possibilities are endless. With a package of treatments, we can address almost any skin condition. Give me a call to schedule a consultation for $50. That $50 can then be applied to any DMK treatment after our consult. It's a win, win. What are you waiting for?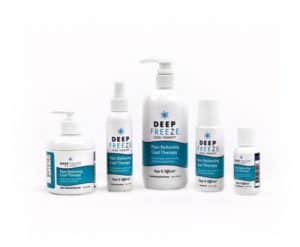 [wpseo_address id="0″ hide_name="false" hide_address="false" oneline="false" show_state="true" show_country="false" show_phone="true" show_phone_2="true" show_fax="true" show_email="true" show_url="false" show_vat="false" show_tax="false" show_coc="false" show_price_range="false" show_logo="false" show_opening_hours="false" hide_closed="false"]