Find out why Dermaplaning is the powerhouse of facials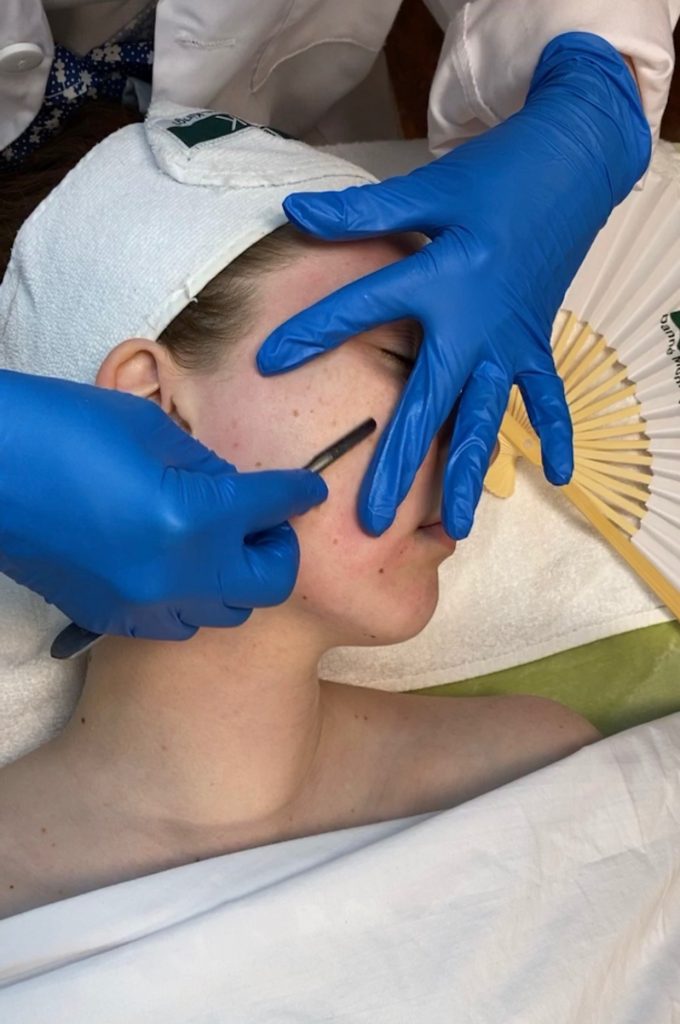 Dermaplaning treatments are the powerhouse of facials and once you receive a treatment, you'll know why. Your skin is instantly transformed and rejuvenated with this exfoliating treatment. If you want your skin to be brighter and dewier, keep reading. Find out how this popular facial changes how people feel about their skin. A client said just last week, "I never thought I could love my skin before dermaplaning". Let me help you fall in love with your skin after dermaplaning. You'll see instant results.
What exactly is "Dermaplaning"? This manual exfoliation treatment provides instant results as well as improved results over time. A surgical blade is used to gently remove 8-10 layers of dead skin cells from your skin. Whatsmore, many love the secondary benefit from this treatment too. It removes the vellus hair (peach fuzz) from the face. This treatment takes between 25 minutes to 45 minutes long depending on what you'd like to have done. The actual Dermplaning takes about 10 minutes. This gentle exfoliation does not hurt and leaves brilliant results to your skin. It will leave your skin feeling smooth and looking radiant. It's no wonder that people are calling Dermaplaing the best-kept secret in the skincare industry.
What is involved in a Dermaplaning session?
When you book your appointment at Incandescent Skin, you will have two treatment options available for online booking. Firstly, Dermplaning treatment removes dead skin cells followed up by a peel or fruit enzyme and finally a hydrating mask leaving your skin dewy, bright and rejuvenated. For the person on the go, we wanted to create a second Dermplaning treatment. You can drop-in for a 25-minute treatment that includes a cleanse, dermaplane and SPF. Let us take you on a relaxing journey that will re-energize you for the rest of the day. Most anyone can receive this treatment, however, there are some health conditions that are contraindicated. For example, people who have an active acne breakout, diabetics and those on blood thinners should not receive this service. If you have a health condition you are concerned about, be sure to talk to your Aesthetician prior to receiving this treatment.
What type of skin would be good for Dermaplaning?
This popular treatment is perfect for the person who would like help with evening out their skin tone or has a desire to boost their complexion. Another benefit is that after your Dermaplaning treatment, your skin will be ready to absorb luxurious, hydrating skincare ingredients. Another perk is that when one Dermaplanes on a regular basis, the skin will have better product penetration after this exfoliating treatment. If you have sensitive skin, rosacea, oily, dry or combination skin, this treatment is perfect for you. Inflamed skin from acne is not recommended for this treatment. We offer other treatments that are better for your skin condition right now. If you aren't sure, just ask.
As previously mentioned, this premiere treatment also allows the skin to penetrate skincare product ingredients better. We hand select Luxury skincare products for your skin type. We provide recommendations for home prescriptives so that you can continue giving your skin the ingredients it needs to continue the beautiful, dewy look from home. You too can love your skin once again after Dermaplaing.
[wps_products_gallery]