Welcome to November 2021 — What an adventure this year has been and I'm so excited for our Tucson Winter Wonderland to arrive. November has always been a special month for me especially because my beloved daughter was born in November, it has always been Sweet November to me.
November is my busiest time for skin revision and I thought I'd highlight some of those treatments and what kind of skin conditions are best for you in case you'd like to add them to your existing appointments for the month of November.
DMK Skin Revision Treatments
DMK IS Amazing at improving the quality of skin. Maybe you have a droopy neck or sagging jowls. Fine lines in need of firming. Do you want juicy, well-hydrated, and moisturized skin? Have you neglected your skin for years and are ready to step up your skin game? Are you ready to invest in your skin? If we've never worked together before, I often will select a DMK Enzyme to do for the first few treatments.
Find out why celebrities covet this beauty secret, DMK Enzyme Therapy. The only skin revision treatment that works from the inside out. ⠀
⠀
✅ DMK enzyme therapy ⠀
✅ eliminates lymph⠀
✅ stimulates cells⠀
✅ promotes a rush of fresh oxygenated nutrient-rich blood from within the skin aiding in circulation and ridding cells of toxins⠀
✅ eliminates free radicals and debris. ⠀
⠀
Enzyme therapy also energizes the mitochondria, the powerhouse of the cell, and stimulates collagen production where it is needed.⠀
⠀
The deep cleanse from the inside out allows the skin cells to work properly and efficiently resulting in stronger healthier, glowing skin. ⠀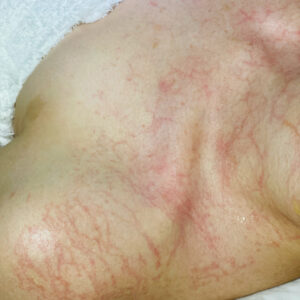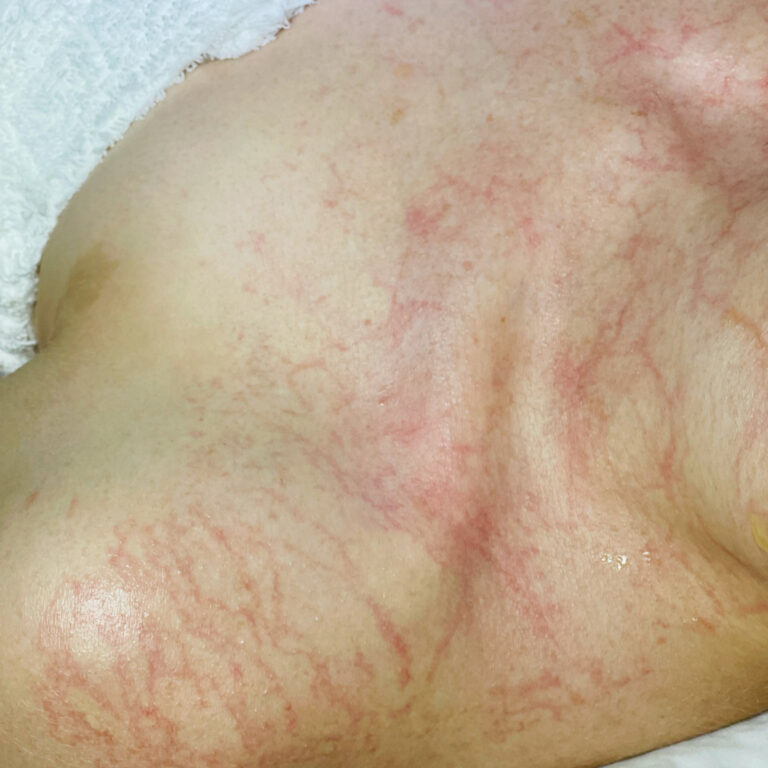 The Plasmatic Effect (red veins) indicates that fresh oxygen and nutrients have been delivered to your skin cells. It will last about 30 minutes after a DMK Enzyme treatment and will disappear entirely, leaving you with glowing skin! You can experience these clinically proven results at Incandescent Skin. The striations are a visual representation of oxygenated capillaries, which indicates that homeostasis through the Plasmatic Effect has been achieved.⠀
⠀
Rebuilding Skin…Rebuilding Lives
Microneedling
You'll see instant results with Microneedling. Plus, the results are long-lasting, especially when a series of treatments are done. You'll see that signs of aging and sun damage can be reversed in just a few treatments.
Microneedling causes micro-injuries to the skin which tricks the skin into thinking it's wounded and creates new collagen.  The body naturally stimulates collagen to start producing on its own. 
For those struggling with the loss of elasticity, this will help firm up the skin.  It also helps reduce the appearance of large pores. 
For those looking for an overall change in their skin, this is a great treatment to do 1-6 times per year.  It's also a great alternative to botox and fillers.  This is a natural procedure that gives results over time. 
Often for those battling pigmentation issues, I will first do chemical peels and then continue revising the skin with a series of microneedling. I will also oftentimes combine Microneedling with a DMK Enzyme to help speed up healing as well as doing a deeper dive of revising skin from the inside out. There are lots of great companion treatments that I will recommend as we go on your skin revision journey.
When it comes to using products for microneedling, we use only the best. "AnteAGE MD Microneedling Solution contains pro-healing, anti-inflammatory growth factors and cytokines derived from laboratory culture of human bone marrow mesenchymal stem cells, the specialized cells that science has determined function as "command and control" of healing in all injured tissues. Synthesized human TGF-B3 is added to further reduce inflammation and promote less fibrotic, more fetal-like healing. Hyaluronic acid provides lubrication and is a powerful humectant that promotes rapid re-hydration and volume enhancement within the upper layers of the skin. AnteAGE MD products contain no cells or cell remnants. They are removed during ultrafiltration, the final step in the laboratory culture process".

AnteAge
Face Reality
Face Reality Skincare was created with one goal: to give people clear skin and confidence from acne. With over 50 million people suffering from the physical and emotional toll of acne, we made it our mission to administer an effective way to achieve clear skin through premium formulas that use only tested safe ingredients. We are dedicated to giving not just real results but celebrating people and their skin at every part of their journey.
Face Reality is a process in which the client must be compliant with homecare products along with professional treatments every 2 weeks. Most acne cases clear up in 3-4 months and then the client will maintain their homecare that is appropriate to maintain their skin.
Visit my Instagram to see a testimony from an influencer who swears by Face Reality.
https://www.instagram.com/tv/CTkYP7ygW7w/?utm_source=ig_web_copy_link
Book a Consulation if you aren't sure which treatment is best for your skin.